Thanks to Microsoft, and there haven't been many cases of that statement being uttered, easily one of the best Playstation games is now available on the PC. Since its Japanese console release two years ago there has been nothing but praise for this blockbuster title. The game brought previously un-seen stealth gameplay and a weaving cinematic story line to the console gamer, not too mention stretching the little grey box's polygon pushing circuitry to the limit.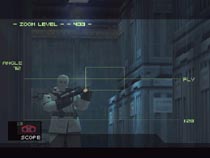 Seemingly limitless software sales and accolades were well deserved but how has the game aged? Does this port fulfil its potential on the difficult PC format, with its dedicated gamers and keyboard-mouse controls?
Snake vs. Terrorists
You play as Solid Snake, a particularly clichéd genetically engineered commando-type hero complete with years of killer instinct training, a whole range of gadgets, the deep voice and a certain 'way' with the ladies. Just think Snake Pliskin from the Escape from ... films. Look at that, they even share a name! The whole story takes places on a barren island off Alaska, where renegade troops from Special Forces unit Foxhound have captured a nuclear weapons disposable facility. Not particularly good news, as the terrorists have access to a few hundred nuclear warheads, with which to hold the world to ransom. Brought back into active service for this secret black operation, Solid Snake has the task of infiltrating said facility, kicking some serious ass and generally saving the day.
From an X-files addicted generation such as ours expect the story to be a little bit more complicated than this. The further you get in to the game, as more information becomes available an epic conspiracy unfolds, involving a huge walking nuclear tank, physic enemies, a ninja and loads of cute chicks (no joke). There is even a big boss with the same call sign as yours, and if that isn't a reason to kill someone .. well I am wasting my time.
Next >>