Ah, yet another completely unexpected, and yet completely wonderful product from our good friends over at Everglide (well actually Mouse Skatez). Reviewing this product reminds me of the Mouse Bungee reviewed a few months ago; one would initially think a product such as this stupid or a waste of time that is, until they have tried it.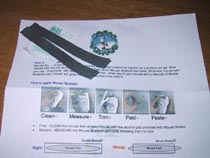 What is it?
The Mouse Skatez is nothing more than a slippery sticker of which you place over your existing mouse feet. Everglide would not disclose with us what exactly the Skatez were made out of, but our best guess would suggest it is some type of Teflon?
Installation
Installation of the Mouse Skatez only requires an IQ of about 20. Simply cut the Skatez down to the desired size, and apply them to your mouse, that's it. It's ok if you go a little overboard with the placement of the Skatez, the more you put on the better off you are bound to be. Everglide included a very nice color instruction manual to help guide you through the installation process.
Next >>