Temperature monitoring is a must for overclockers. The most common solution is to use a software program like Motherboard Monitor. That program is great but has its limitations. You can't see the readings while playing games or when you are rebooting for example. This is where the CompuNurse comes into play. CoolerGuys sent me two of those little toys to play with.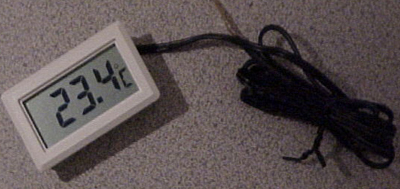 Specifications
Temperature range: -40ºC to +90ºC
Accurate within 1ºC
3 seconds sampling rate
800mm (31.5 inch) sensor cord
Dimensions: 48x28x14mm
I'm not quite sure who manufactures the CompuNurse, as the packaging is very simple and features no brand name. I have heard Globalwin imports them in to the Americas. What I also know is that Senfu manufactures a device, which looks just like it. Wolfie from Virtual Hideout reviewed this unit a few months ago, and from what I see on VH is the unit itself looks just the same. But the one from Senfu come in a nice little box and a little rack for those who want to keep it mobile. The CompuNurse came in a blister pack and had no fancy rack. Maybe it's a Senfu device in disguise? Hmmm…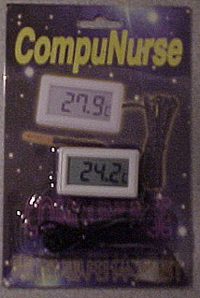 It's a very simple device actually. The thermal probe is flat so you can mount it close to the CPU without interfering with the heatsink. Note that you should never install the probe directly between the CPU and heatsink. For one this will highly handicap your heatsink performances and you will most likely crush the probe. On most heatsinks, the core is elevated from the rest; you should place the probe on the side of the core. Try to place the head of the probe as right on the edge of the core.
Next >>
[an error occurred while processing this directive]